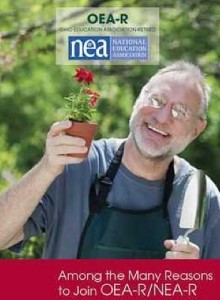 Your first year of membership in OEA-Retired is free (courtesy of OEA) when you join the National Education Association-Retired. Membership in NEA-R is $35 per year.  After your first year of free OEA-Retired membership, you will pay only $60 per year for your unified OEA-R/NEA-R membership.
OEA-Retired also offers a life membership for $150. OEA life members are automatically OEA-Retired life members.  NEA life members are not automatically NEA-R life members. NEA-R life membership is available for $300, payable in one payment. Click here for the membership form. To join and pay with a credit card go to the web site:  http://www.nea.org/JoinNea.
Pre-retired life membership is available to active members at any time. The unified life membership in both OEA-R and NEA-R is $450.  Go to the web site above to join or click here for the pre-retired membership form.
Pre-retired members should contact OEA Membership Services when they retire to become a retired member. For additional information on how you can stay involved in your profession, contact the OEA-Retired Liaison at:
(800) 282-1500 or (614) 228-4526
OEA-Retired
225 E. Broad Street
Box 2550
Columbus, OH 43216