4/7/2020
OEA-R Committee Posting Names of persons interested in being considered for election to the position of OEA-R Representative on the OEA Professional Efficacy Standing Committee are now being accepted. This is a three (3) year term which begins July 15, 2020 through July 14, 2023.
The Professional Efficacy Committee shall be responsible for recommending to the OEA Board of Directors and other appropriate entities the creation of OEA strategies that ensure the planning, implementation, and regular assessment of the Professional Development Program that assists local affiliates to address professional development issues, promote the OEA's legislative agenda and meet the needs of local and supports the professional growth of members.
The committee meets twice a fiscal year on dates set by the OEA President. The meeting dates for the 2020-2021 year are Oct 2-3, 2020 and Jan 22-23, 2021.
Please submit your name to the OEA-R Chair Mary Binegar (binegm@aol,com) ​AND​ a copy to the Vice Chair Phil A. Long (palcisv13@gmail.com) ​no later than midnight April 21,2020 indicating your wish to be considered for the appointment to OEA Professional Efficacy Committee. ​Please include a brief statement listing your qualifications and reason for wanting to serve OEA-R in this position.
The recommendation for appointment will take place at the OEA-R Advisory Council Meeting on or before May 7, 2020.
~~~~~~~~~~~~~~~~~~~~~~~~~~~~~~~~~~~~~~~~~~~~~~~~~
8/14/2019
SERS MEMBERS
We need your help.
In January 2017, SERS developed a Limited Wraparound Plan for retirees under age 65. The plan allows retirees to use the federal marketplace to find a health care plan that fits their health care needs, and allows us to "wrap" extra benefits around the plan while allowing the individual to obtain available federal premium and cost-sharing subsidies.
The Wraparound Plan was established as a three-year pilot program and is set to end on December 31, 2019.
This is where you come in.
Approximately 500 SERS retirees are enrolled in the Wraparound Plan, many of whom have disabilities. If the plan is not extended, the currently enrolled SERS retirees will have to find alternative coverage (which includes moving to SERS' established coverage or keeping their existing plan with no Wrap benefits), and future retirees will no longer have this option.
All participants in this program have realized significant health care cost savings, as has SERS. Any savings we achieve for retirees can ultimately extend the life of our health care fund.
We urge you to contact your U.S. Senators in their Washington offices to request their support for a two-year extension of Limited Wraparound Programs. Right now the Senate is considering a Labor/HHS Appropriations bill that would be an ideal opportunity to include that amendment.  We have made it easy for you contact them through SERS' Legislative Action Center. Complete the fields below to contact your Senators' offices, and request an extension of this vital program today.
Subject: Support an extension of the Limited Wraparound Plans for retirees
Dear [[Recipient's Title and Name]]:
On behalf of the School Employees Retirement System of Ohio (SERS) and my fellow retirees, I am writing with an urgent request. We are asking you to support an amendment to the FY2020 Labor/HHS Appropriations bill currently being considered by the Senate to extend Limited Wraparound Plans for two years beyond the current three-year pilot period. House members have expressed support for a similar provision. We need the Senate to act as well.
This pilot program is set to expire December 31, 2019. Time is of the essence. This Limited Wraparound Plan has been a vital program that is helping retirees afford access to health care coverage. Please support the addition of language in the appropriations bill to extend this Program.
[ Your Full Name ]
~~~~~~~~~~~~~~~~~~~~~~~~~~~~~~~~~~~~~~~~~~~~~~~~~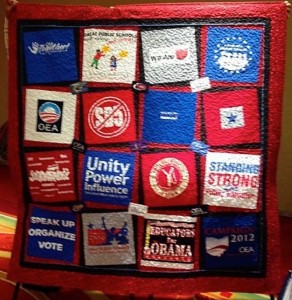 The OEA-R delegation to the 2014 NEA RA in Denver combined to purchase this quilt for $2300 at the FCPE live auction fundraiser. The quilt was donated to OEA and is on display in the OEA building. It is noted as a donation from OEA-R.